Power Tools Pose a Significant Risk to New York Construction Workers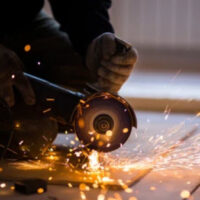 It's not always easy to determine who is to blame for construction accidents in New York. On the one hand, you might immediately point your finger at a negligent property owner or a contractor who didn't follow proper safety procedures. In other situations, the culprit may be right under our noses. Faulty power tools are responsible for many injuries among New York's construction workers each year, and manufacturers need to be held accountable.
If you have suffered injuries due to faulty machinery or power tools on a New York construction site, it makes sense to reach out to a professional, qualified personal injury attorney. These professionals can help you receive considerable compensation for your injuries. In many situations, this settlement is desperately needed. You may have been permanently disabled due to your injuries. Even minor medical expenses and weeks of lost wages can prove to be a significant financial burden.
A Stunning Example of Negligence 
Manufacturers release faulty power tools more often than you might realize. In 2020, it was reported that the power tool company Kobalt had recalled 150,00 battery-powered chainsaws. The issue with the chainsaw was simple: it remained on even when users flipped the "off" switch. You can imagine the potential for injury in a situation like this.
Smaller Power Tools May Pose an Especially Significant Risk 
According to EHS Today, smaller power tools may be especially dangerous on construction sites. This is because manufacturers are often reluctant to spend money on safety testing and safeguards. Why? Because then these safety measures would outweigh the actual cost of the power tool. From a purely money-making perspective, this approach makes sense. From a safety perspective, it's a disaster waiting to happen.
One of the key concerns with smaller power tools is the "failure to control hazardous energy." On New York construction sites, power outages may be a common occurrence. When smaller power tools lose power, operators may not switch them to the "off" position. When power returns, the power tool may suddenly spring to life, endangering those in the immediate vicinity.
Another major concern is the ability to shut down the tool quickly. After an injury occurs, the number-one priority is reducing power to the tool so that the injury can be prevented from getting worse. Unfortunately, many workers find themselves scrambling for inaccessible "off" switches after suffering an injury. Sometimes, the only option is to yank the power cord out of the outlet. Various safety organizations are calling for more manufacturers to create easily accessible emergency stop buttons on their power tools.
Enlist the Help of a Qualified Personal Injury Attorney Today 
If you're searching throughout the Empire State for a reliable personal injury attorney, look no further than Michael Gunzburg, P.C. With a wealth of experience in construction accidents, NYC personal injury lawyer Michael Gunzburg can help you receive an adequate, fair settlement. If you're ready to hold these negligent power tool manufacturers accountable, reach out today.
Resources:
consumerreports.org/recalls/kobalt-recalls-battery-powered-chainsaws/
ehstoday.com/safety/article/21920407/electrical-safeguarding-of-power-tools