Top Hazards For Cyclists In New York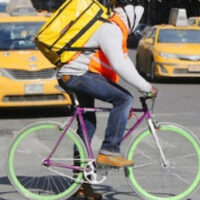 If you're a cyclist, you already know that the streets of New York are filled with all kinds of hazards. Although riding a bike is an eco-friendly, affordable, and convenient way to get around town, it also comes with its fair share of dangers. Motorists in New York can seem completely ignorant of cyclists on the road, and this can lead to many serious collisions. But what are the greatest risks to cyclists, especially in the context of other automobiles?
If you have suffered an injury on your bicycle due to a vehicle collision, it makes sense to get in touch with a qualified, experienced personal injury attorney as soon as possible. These legal professionals can help you hold guilty motorists accountable for their negligent actions. Cyclists have every right to be on the road, and drivers of vehicles need to respect their rights. With the right attorney, you can pursue legal action and receive a settlement for your medical expenses, missed wages, and other damages.
Trucks are Getting Too Big 
A recent report highlighted the fact that pick-up trucks seem to be getting bigger and bigger, and this is causing considerable blind spots in the front of these large vehicles. In fact, some blind spots in front of the hoods of full-size pickup trucks extend more than 11 meters. This obviously poses a grave risk for cyclists, as they are essentially invisible to the drivers of these pickup trucks.
Parked Cars Pulling Out Without Looking 
Many motorists only look for other vehicles when pulling out of a parking spot. Instead of checking all of their mirrors for cyclists, they simply veer out of parking spots and into the road. This can take cyclists completely by surprise, and they don't have any time to react.
Left-Hand Turns 
Cyclists commonly collide with cars during left-hand turns. Either the cyclist is attempting a left-hand turn, the car is attempting a left-hand turn, or both. Either way, the main issue is that motorists can find it very difficult to see cyclists who may be mixed in with traffic. They may believe that the intersection is clear, when really there's a cyclist about to move across their pathway.
Right-Hand Turns 
If you've recently obtained your driver's license, you know that shoulder-checking during right-hand turns is a major focus. If you fail to shoulder check properly, you'll probably fail your driver's test. Shoulder-checking during right-hand turns is especially important for the safety of cyclists. When a motorist suddenly decides to turn right without much warning, a cyclist trailing behind can impact the side of the car, causing severe injuries.
Enlist the Help of a Qualified Attorney Today 
If you need help with your case, reach out to skilled NYC personal injury lawyer Michael Gunzburg, P.C. We have been fighting for the rights of cyclists for many years in New York, and we understand that these two-wheeled vehicles have every right to share the road with cars. Injured victims deserve the chance to take legal action against negligent drivers. Reach out and get your free initial consultation today.