New York Lawmakers Push For Harsher Penalties For Negligent Scooter Riders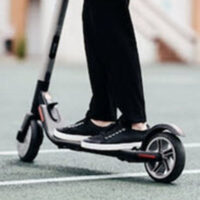 New York is facing a serious scooter epidemic. This might sound slightly ridiculous, but the statistics are no laughing matter. People are being injured and killed on a regular basis by negligent scooter drivers, and NYC residents are asking lawmakers to take action. For too long, electric scooters have occupied a "grey area" when it comes to vehicle classification. Do they count as motor vehicles? Should they be viewed as bicycles? Where should they be driving; in bicycle lanes or among the cars on the main road? What kind of laws should scooter riders follow, and how does insurance come into play?
If you have been injured by a negligent scooter rider in New York City, these kinds of questions can lead to a major headache. This definitely isn't ideal, especially if you're already dealing with considerable injuries, medical bills, missed wages, psychological trauma, and a range of other issues. In order to establish a better understanding of how to move forward, it makes sense to enlist the help of a qualified, experienced personal injury attorney in New York. Work with a legal professional who is familiar with the laws that govern electric scooters in the Empire State, and you can proceed with confidence and recover an adequate settlement for your damages.
E-Scooter Riders Face Serious Penalties for Hit and Runs 
On June 25th of 2021, it was announced that State Senator Brad Hoylman and Assemblymember Lina Rosenthal had introduced legislation that would severely punish e-scooter riders who commit hit and runs. This came sooner after well-known actress Linda Banes was struck and killed by an e-scooter rider who fled the scene of the crime.
If this legislation is passed into law, e-scooter riders will face the exact same penalties for a hit and run as someone who commits the same offense in a normal car. The Senator and Assemblymaker stressed that New York's laws are lagging far behind the development and new popularity of e-scooters. They reminded residents that almost 550 people have been injured by e-scooters since 2020. E-scooters have also been responsible for three deaths during that period. With this new law in place, e-scooters could be charged with a felony if they leave the scene of a collision that results in injury or death.
E-Scooter Accidents Continue to Occur on a Weekly Basis in New York 
E-Scooters continue to be responsible for injuries in New York, suffered by pedestrians and riders alike. It's clear that New York needs to take immediate, effective action in order to protect its residents and make our streets safe.
Enlist the Help of a Qualified Attorney Today 
For assistance with your case, contact dedicated NYC personal injury lawyer Michael Gunzburg, P.C. We are fully aware of the danger posed by negligent scooter drivers, and we're passionate about helping injury victims take legal action. While new legislation is certainly a good thing, your only route towards compensation is through a lawsuit. Let's work together to get you the compensation you deserve.
Resources:
globalnews.ca/news/7950606/lisa-banes-dead-hit-and-run/
thevillagesun.com/lawmakers-increase-penalties-for-e-scooter-hit-and-runs