National Grid Sued For $21 Million In New York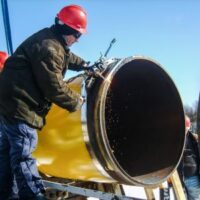 Two New York city gas distribution companies associated with National Grid have been sued for $21 million, according to a new report. While there are many safety concerns in the construction industry, some of the most notable hazards have to do with gas and other flammable materials. A moment of negligence or an improper safety system could potentially end in life-ending disasters. Tragic disasters are perhaps more of a concern with gas pipelines compared to a number of other construction jobs in the Empire State.
This new settlement gives hope to workers in New York who have been injured by gas lines or any other hazard in a construction site. If you have been injured, it's important to hold negligent parties accountable. The best way to do this is to work with a qualified, experienced personal injury attorney in New York. Ideally, you should connect with a lawyer who specializes in construction injuries. With the right legal assistance, you can gain meaningful compensation for your damages.
Zero Tolerance for Violations of Gas Safety Standards 
Speaking about the $21 million lawsuit in March of 2021, Governor Cuomo stated that "New York has zero-tolerance for violations of its gas safety standards that are designed to protect people and property, and will continue to impose tougher, more significant penalties for violations." The lawsuit came about after a number of safety violations were revealed. Various companies working with the National Grid did not adequately protect their underground gas pipelines from corrosion.
This lack of protection puts entire populations at risk. Not only that, but the companies were not giving their infrastructure workers proper supervision or training as they worked on these pipes. In addition, many of the workers tasked with working on these pipelines were not qualified to take on the work.
The Dangers of Working on Gas Pipelines 
Working on gas pipelines is infamously dangerous and often under regulated. One report reveals that oil and gas pipeline workers are more than 3.5 times more likely to die on the job compared to an average worker. Unfortunately, the fatalities aren't slowing down. In 2016, the fatality rate reached an unprecedented high. Notable risks include cave-ins while working in trenches, falls, unstable loads, material handling, and electrocutions. New Yorkers have traditionally been strongly opposed to the construction of gas pipelines in their State for many reasons, although safety concerns are often at the top of their lists.
Enlist the Help of a Qualified Attorney Today 
If you need help with your case, contact the skilled NYC construction accident attorneys at the office of Michael Gunzburg, P.C. Thanks to a wealth of experience with construction injury cases, we have the knowledge and the skills to assist you in a meaningful way. We know how to hold negligent contractors and property owners accountable for their actions. New York's construction workers should feel safe, no matter how hazardous their job might be. Reach out today, and we can help you get the compensation you deserve.
Resources:
jordanbarab.com/confinedspace/2018/09/26/working-in-mordor-workers-and-the-hazards-of-oil-gas-pipeline-work/
governor.ny.gov/news/governor-cuomo-announces-21-million-settlement-national-grids-downstate-gas-business-over