Business Groups Are Trying To Use Cannabis Legalization To Destroy The Scaffold Law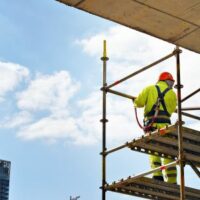 In New York, business groups have been trying to get rid of the Scaffold Law for years. This should come as no surprise, as various businesses end up paying millions of dollars each year to construction workers in New York who are protected under the Scaffold Law. Although they have been trying their best to get rid of these protections, the State of New York remains one of the few places in America where contractors and property owners have "absolute liability" for gravity-related incidents.
If you have been injured due to a fall on a New York construction site, you need to enlist the help of a qualified, experienced personal injury attorney as soon as possible. Workers Compensation can only provide you with a small fraction of the total funds you may be entitled to. It's important that you don't miss out on potential compensation from a personal injury lawsuit, especially if you're dealing with injuries that could stop you from working in the future. With the help of an experienced legal expert, you can get the compensation you deserve.
Business Groups Argue that Marijuana Legalization Could Impact Worker Safety 
In a letter to Governor Cuomo, top business groups in New York warned that a proposed legalization of marijuana in the Empire State could result in serious safety concerns on New York construction sites. These business leaders argue that testing methods for marijuana intoxication are inadequate, and that construction workers could potentially be under the influence of legal marijuana while working on various projects. They went on to argue that the legalization of marijuana could have an impact on insurance. Stating that there is no "standardized impairment level" that constitutes a safe working environment, these groups have voiced concerns that this could make it very difficult to determine liability. They also state that because of these changes, the cost of construction work could rise, with fewer workers being hired. Finally, these big business groups have expressed concerns about the Scaffold Law once again, presumably linking marijuana use with this historic New York law as well.
What is the Scaffold Law? 
The Scaffold Law is a unique set of protections offered to New York construction workers. For all gravity-related incidents in the state, contractors and property owners have total liability for injuries. "Absolute liability" means that even if workers were not using proper equipment or acting in an unsafe manner, the contractors and property owners are still liable. Business groups have been fighting to have this law removed for years, mostly because it adds millions of dollars in costs to construction projects in New York.
Because the Scaffold Law makes these entities completely liable, groups have argued that it should be altered in the face of marijuana legalization. Theoretically, a worker who is high on marijuana while injured could still seek damages from a property owner or contractor owner. At the very least, these groups argue, contractors should have the ability to defend themselves if an injured worker is determined to be under the influence at the time of the accident.
Enlist the Help of a Qualified Attorney Today 
Don't hesitate to reach out to the skilled NYC construction accident attorneys at the office of Michael Gunzburg, P.C. if you need assistance. With a wealth of construction injury experience, Michael Gunzburg can help you pursue the compensation you deserve in an efficient manner. While the Scaffold Law might be under constant threat from big business groups, you can still enjoy meaningful protections thanks to this unique legislation. Take advantage of these protections, and you can receive significant compensation for your injuries.
Resource:
spectrumlocalnews.com/nys/central-ny/ny-state-of-politics/2021/03/22/business-groups-raise-safety–insurance-concerns-with-cannabis-legalization