What Happens If No One Witnessed My Slip And Fall In New York?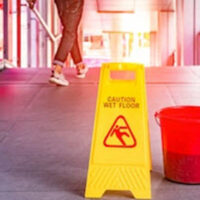 Suffering a slip and fall in New York can be an incredibly traumatic and distressing experience, especially if your injuries were sustained due to someone else's negligence. Perhaps you slipped and fell in a grocery store due to the staff's failure to clean up a spill. Maybe you slipped in an icy parking lot due to a business' unwillingness to salt their premises. Whatever the case may be, you might be wondering what happens if no one actually witnessed your slip and fall.
Questions such as these are best left answered by legal professionals. You should reach out to a qualified, experienced personal injury attorney in New York. These experts will listen to your unique experience and provide you with helpful advice on how to proceed. In many instances, you may still have the opportunity to take legal action and gain compensation for your injuries, even if no one witnessed the slip and fall.
Check the Surveillance Footage 
In the modern era of mass surveillance, it is actually very rare for a slip and fall to go completely unwitnessed. Even if there was no one around to witness the accident directly, there was probably a video camera pointed at you when you became injured. This is especially true in grocery stores and other shops, where security cameras are extremely common. Work with your attorney, and you can get access to this footage to help prove your case.
Immediately Report the Fall 
The sooner you report your fall, the better chance you have of being taken seriously. If the fall was serious enough, you probably called 9-11 to get medical help. This is a great decision that helps you get medical treatment while also providing a documented report of the incident that you can use in court. After calling 9-11, stay where you are.
If you have suffered injuries and you're lying on the ground, you might want to stay on the ground until the paramedics arrive. You never know whether you've injured your spine or another vital part of your body, and it's best to wait until you can be assessed by medical professionals before getting up. In addition, it can help your case if paramedics find you at the scene of the accident. This is particularly important because if you get up and walk away from the place where your accident occurred, the defendants may claim later on that your accident never happened where you say it happened. The Defendants will argue that you choose their location because it was dangerous and that you knew that have deep pockets, not that your accident actually took place there. That's why its prudent for you to wait exactly at the location where your accident occurred before the police and/or EMS arrive. They will document where they found you in their reports, helping you confirm the location of your accident.
Other Evidence
 Witness testimony isn't the only type of evidence you can use in court. You can also provide documentation, such as medical reports, medical images, and photographs of the scene of the accident. Your attorney can certainly help you compile and present evidence to the court.
Get Help From a Legal Expert Today 
If you have suffered a slip and fall, you need help from a legal expert if you want to give yourself the best chance of a favorable legal outcome. With the right attorney at your side, you can pursue a meaningful, adequate settlement amount even if no one actually witnessed the incident. Book a consultation with NYC personal injury lawyer Michael Gunzburg, P.C. at your earliest convenience, and we can develop a legal strategy based on a wide range of strong evidence.
Resource:
portal.311.nyc.gov/article/?kanumber=KA-01397