Legal Consequences After 2019 Harlem Construction Accident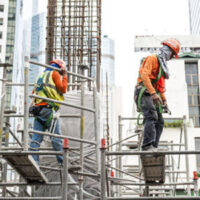 After more than a year, two workers are finally facing legal consequences for a 2019 accident that killed a construction worker in Harlem. Like so many other accidents in New York, this deadly accident involved faulty scaffolding and a worker's fall from heights. A wrongful death claim would have allowed the surviving family member of the deceased worker to receive compensation. In addition, the contractors  responsible for the accident had their licenses permanently revoked. If not for this additional measure, they would have been able to continue working – potentially in an unsafe manner- dangerously exposing other workers to serious injury and death.
Criminal charges and personal injury claims may both be necessary if you have lost a loved one due to a construction accident. A wrongful death personal injury claim will allow you to claim significant damages for your medical expenses, lost wages and pain and suffering damages. . These can also include  funeral expenses, emotional anguish, and future medical care.  If your settlement is not adequate, you may be able to pursue further legal action.
As a result of legal proceedings, negligent individuals may lose their construction licenses. This protects innocent workers from suffering the same fate in the future. When you pursue legal action as a result of a construction accident, you're making a real difference for you, your family and your co-workers. Taking advantage of this legal avenue makes New York safer for everyone. If you are serious about pursuing a wrongful death claim or any other personal injury claim after a construction accident, it's important to enlist the help of a qualified, experienced personal injury attorney.
A Clear Example of Negligence 
The incident in Harlem is a clear example of negligence. The contractors never received permits to install scaffolding. When they did install scaffolding, it lacked significant safety measures, such as guardrails and planks. Workers were not trained to properly use the scaffolding. Finally, there was no supervision for workers as they operated on the scaffolding. Although it took over a year, the responsible parties were eventually held accountable for their negligence. Two builders had their licenses permanently revoked, which means that they'll never have the chance to work in the construction industry again. Their company was also issued a $50,000 fine.
The Scaffold Law 
New York's construction industry is unique because of the Scaffold Law. Because of this law, property owners and contractors are completely liable for any gravity-related incidents. The law is more than 100 years old, and it is the source of considerable controversy and debate in New York. In this specific circumstance, the contractors would be completely liable for the fall that caused the worker's death. Even if they had provided some  safety measures and  training, the Scaffold Law would have imposed "absolute liability" on the negligent contractors.
Enlist the Help of a Qualified Attorney Today 
If someone you love has passed away due to a construction accident, reach out to an experienced NYC wrongful death construction attorney as soon as possible. After successfully filing a wrongful death claim, you can receive the compensation you need to continue with your life. Contact Michael Gunzburg, P.C. today.
Resource:
patch.com/new-york/harlem/2-builders-lose-licenses-after-deadly-harlem-accident