31-Story Crane Falls Apart in Brooklyn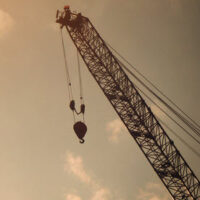 Although there are many potential hazards on a typical New York construction site, cranes are perhaps some of the most worrying. These towering pieces of heavy equipment seem to loom over us as we walk by, and many of us have an underlying fear that they might fall over at any minute. These fears are actually quite warranted, as cranes can topple in certain circumstances. While most construction companies are professional enough to keep this from happening, there's no denying that the hazard is real. Sometimes crane operators and other contractors are negligent, and cut corners or avoid safety hazards in an effort to same time and money. Unfortunately, these circumstances are real, and happen all the time. When a crane operator or other contractors are negligent workers, pedestrians, building residents, dog walkers, retirees, and even the USPS deliver person can be seriously injured or even killed. When a heavy crane comes crashing to the ground from an elevated position, the results can be catastrophic.
If you have been injured due to a falling crane or any other kind of construction equipment, you can seek compensation from those responsible. Passers-by in New York should not have to worry about whether negligent construction workers will send heavy equipment hurtling in their direction. Enlist the help of a qualified, experienced construction accident attorney, and you can receive a settlement that will cover your damages.
Crane Almost Spells Disaster in Brooklyn 
On February 11th of 2021, a crane fell apart at a construction site in Brooklyn. Crews were working on a 31-story building when the main arm of the crane simply fell downwards, dangling perilously above the ground. The DOB stated that the incident occurred while crews were performing maintenance work on the crane and that no one was either hurt or injured.
New York Has a History of Crane Mishaps 
It could have been much worse. In 2008, a crane collapsed at 303 East 51st Street in Manhattan, killing seven people and injuring 24. After an investigation by the OSHA, it was determined that crews had not properly followed the official instructions for lifting a stabilizing collar up to the ninth floor.
Another incident took place in 2016, when a collapsing crane killed one person in Lower Manhattan. An investigation determined that the operator had failed to properly lower the boom, placing liability completely on his shoulders. The person who was killed was an innocent pedestrian on his way to work.
Who is Liable? 
Although you have a strong chance of receiving a substantial settlement after a New York crane accident, determining who is liable for your damages is often a complex process. Depending on the circumstances, liability may fall on the crane manufacturer, the operator, the contractor, or the property owner. Your attorney might help you determine things like:
Whether operators were adequately trained
Whether operators were adequately supervised
Whether the manufacturer warned operators about potential hazards and dangers
Whether the crane was properly maintained
Whether someone tampered with the crane making it unsafe
Enlist the Help of a Qualified Attorney Today 
If you have suffered injuries due to falling construction equipment or any other construction-related incident, you should take legal action as soon as possible. After you have received medical attention for your injuries, get in touch with Michael Gunzburg, P.C. With a wealth of experience in construction-related injuries, Michael Gunzburg is a qualified, skilled NYC personal injury attorney who can help you fight for justice. There's no reason you should simply accept your damages without holding the negligent parties accountable. That is exactly why you should contact NYC construction accident attorney, Michael Gunzburg.
Resources:
abc7ny.com/crane-collapse-brooklyn-greenpoint-arm/10331056/
nytimes.com/2016/12/09/nyregion/fatal-manhattan-crane-accident-crane-operator.html