Can I Sue My Doctor For Failing to Diagnose Vulvar Cancer?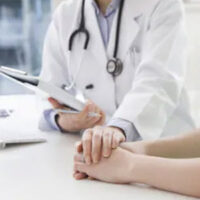 Early diagnosis is very important with vulvar cancer, and many women in New York are finding this out the hard way. Although this type of cancer is quite rare, the consequences can be life-altering. All forms of cancer are serious, but vulvar cancer can be especially alarming and stressful since it involves such an intimate part of the body. If you believe that your doctor failed to diagnose your vulvar cancer in a timely manner, you may have the ability to sue them for medical malpractice.
If you're serious about taking legal action against your doctor or any other healthcare professional who has been negligent, it's very important to enlist the help of a qualified, experienced personal injury attorney. Medical malpractice lawsuits can be difficult to win, but things become much more straightforward when you have the assistance of a legal expert. If you are successful, you can receive compensation for your economic and non-economic damages.
What Happens if Vulva Cancer Is Diagnosed Too Late? 
The survival rate for vulvar cancer is actually quite high, but this doesn't tell the whole story. If vulvar cancer is diagnosed too late, the entire vulva may have to be surgically removed. This can obviously have a massive impact on a woman's life, her self-confidence, and her overall well-being.
It is true that vulvar cancer can often be difficult to spot. Women must get checked regularly if they are concerned about any abnormalities with their genitalia. That being said, women put their complete trust in doctors when they get checked for potential issues. A woman can only attend these appointments, and they never truly ensure that a doctor is actually doing their job. This is why it is so important for doctors to act in a responsible, professional manner and look very closely for any potential signs of vulvar cancer.
There are No Screening Tests for Vulvar Cancer 
The fact that there are no screening tests for vulvar cancer makes it even more important for doctors to accurately diagnose this disease. The only way this type of cancer can be detected is through accurate pelvic exams, vulvar biopsies, or imaging scans. These medical professionals should also take into account your medical history. While the exact cause of vulvar cancer is unclear, there is some evidence to suggest it is linked with the HPV virus. If doctors don't "connect the dots" when assessing your medical history, this could be an example of negligence. In other situations, the patient complains about vulva conditions and the doctor just dismissed it as just another yeast infection. When in fact, it's the early signs of vulva cancer. That's why its important to recognize the potential problems that may arise in a doctor's office, and try to address them before they become a lawsuit.
Enlist the Help of a Qualified Personal Injury Attorney Today 
If you feel like your vulvar cancer wasn't diagnosed properly, you should explore your options for legal action. Reach out to NYC personal injury attorney Michael Gunzburg, P.C., and we will do everything in our power to help you achieve justice. You may have the ability to receive significant compensation for any damages you have suffered, both in terms of expenses, and pain and suffering. Contact us today to book a consultation, and we'll develop an action plan together.