What is the Scaffold Law in New York City?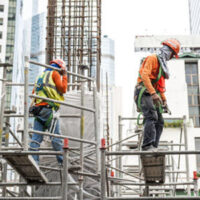 Otherwise known as Section 240(1) of New York's Labor Law, the Scaffold Law plays an important role in protecting construction workers in the Empire State. If you have been injured on a construction site, the Scaffold Law may form an important underpinning of your legal case. Learn more about this law, and you will gain a more concrete understanding of your rights as a construction worker – as well as your legal options if you have suffered certain injuries on a construction site in New York City.
If you are pursuing a personal injury claim, it's best to consult with a qualified attorney as soon as possible. In addition to collecting photo evidence and reporting the incident to your supervisor, connecting with an attorney should be one of your very first steps. You should do this even before you speak with your insurance company, as you may incriminate yourself if you say the wrong things to outside agencies.
The Scaffold Law Explained 
The Scaffold Law is outlined in Section 240(1) of New York's Labor Law, and it states that all contractors, owners, and agents must provide safety measures for employees working at considerable heights. In order to "give proper protection to a person so employed," these contractors and owners must provide one or more of the following:
Scaffolding
Hoists
Stays
Ladders
Slings
Hangers
Blocks
Pulleys
Braces
Irons
Ropes
These are just a few examples of possible safety devices and measures that must be implemented by contractors and owners. Ultimately, judges will use their own discretion to determine whether or not adequate measures were taken to protect workers against gravity-related incidents. But if you come to us, we will help you understand how the labor law applies in your particular situation.
What Makes the Scaffold Law Different? 
The Scaffold Law is unique in many ways. First of all, this law only exists in New York State. Secondly, the Scaffold Law was enacted back in the 19th century, when organizations like the OHSA and workers' compensation programs did not exist. This means that the Scaffold Law offers you a completely different level of protection that extends way beyond that provided to you under traditional case law.
The Scaffold Law and Absolute Liability 
The Scaffold Law is also notable because of something called strict liability. This means that the contractor or owner is "strictly liable" for gravity-related falls and incidents, regardless of the actions of the employee. The court will completely ignore the actions of the worker – it doesn't matter if they were contributorily negligent or somehow caused their own accident. The owner or contractor will be found strictly liable for all damages arising from the accident.
Getting Legal Help
 If you have been injured in a gravity-related construction accident in New York State, you have a strong chance of receiving a favorable outcome because of the Scaffold Law. Because of this law, you can sue third parties for compensation as a result of their negligence. That being said, it's important to enlist the help of an attorney with a strong understanding of construction accident and injury laws. Reach out today to a New York City construction accident lawyer at the office of Michael Gunzburg, P.C. today, and take your first steps towards getting the compensation you deserve.