How Do I Pursue a Personal Injury Lawsuit After A Bicycle Accident in New York City?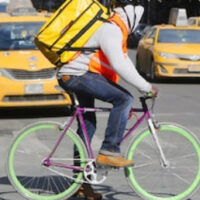 In large urban centers like New York City, cycling is becoming more and more popular. With a bicycle, you can easily navigate through deadlocked traffic, lower your carbon footprint, and get some great exercise. All that being said, cyclists are also extremely vulnerable to accidents and injuries, especially when motorists are being careless. If you have suffered an injury while cycling on the streets of New York City, you may be able to pursue a personal injury case and win compensation.
If you're serious about achieving a positive legal outcome with your personal injury lawsuit, it's important to join forces with an experienced, qualified attorney. When you work with an attorney who thoroughly understands personal injury law in New York City, you'll have a much better chance of success.
The Right of Way Law 
Otherwise known as Section 19-190 of New York City's Vehicle and Traffic Law, the Right of Way Law plays an important role in many bicycle accident lawsuits. According to this law, a motorist automatically commits a traffic violation whenever they fail to yield to a pedestrian or cyclist. If their failure to yield results in injury or death, they will be guilty of a misdemeanor, and potentially liable in a civil lawsuit.  This is one of the most commonly-enforced traffic laws in New York City today.
Who Can I Sue After Suffering a Bicycle Injury? 
As a cyclist, you can sue whoever was responsible for your injury. In most cases, you'll be taking legal action against a motorist and the owner of the vehicle that collided with you or caused you to fall off your bike. However, you may also take action against pedestrians if they caused your injury. In addition, you are not limited to suing private individuals. You may also take action against government agencies. For example, you may sue the U.S. Postal Service if a postal truck failed to yield and caused an accident. Another common example is the public transit service, as buses may also collide with cyclists, and are also potentially liable.
Why Your Insurance Payout May Not Be Enough 
Many cyclists opt to simply receive a payout through their insurance company after suffering an injury while cycling. Unfortunately, these payouts are often inadequate. Generally speaking, insurance companies only reimburse you for your medical costs and other out-of-pocket expenses.
On the other hand, a lawsuit can help you gain compensation for things like pain and suffering, which represents emotional distress,  physical harm and mental trauma. The accident may have left you feeling scared and unwilling to ever ride a bike again in New York City. A personal injury attorney can help you gain compensation for these life-altering injuries.
Why Bicycle Personal Injury Cases are More Important than Ever 
Cyclists are at extremely high risk for injury in New York City, especially in the modern era. With the rise of COVID-19, more people are avoiding public transit. Many of these individuals are choosing to ride bikes instead, and this massive surge has inevitably resulted in more injuries than ever before. The NYPD has reported that by March of 2020, bicycle injuries were up 43 percent. If people don't hold motorists accountable with lawsuits, these tragedies will continue long into the future, and let these careless drivers get a "free ride."
Getting Legal Help 
If you have suffered an injury while cycling, it's important to act quickly. Reach out to a dedicated New York City bicycle accident lawyer at the office of Michael Gunzburg, P.C. today, and take your first steps towards achieving justice and getting the compensation you deserve.
Resources:
nyc.streetsblog.org/2020/03/19/nypd-bike-injuries-are-up-43-percent-during-coronavirus-crisis/#:~:text=According%20to%20NYPD%20data%2C%20there,there%20were%2056%20bicycle%20injuries.
nyc.gov/content/visionzero/pages/legislation