How Can Technology Improve Construction Safety In New York?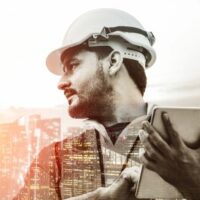 Construction safety is a major issue in New York, with countless individuals becoming injured each year. Many are killed. So what is being done to improve this situation? New technology may be able to help. The construction industry constantly implements new technology to make projects easier and more efficient. This includes the development of new power tools, new building methods, new materials, sustainable solutions, and much more. But the real question is whether we're using our technological ingenuity to improve that which matters most: worker safety.
While new safety technology in this industry may be reassuring to some, it doesn't help much if you've already been injured. In this case, you need to get in touch with a qualified, experienced personal injury attorney as soon as possible. While Workers' Compensation mostly prohibits you from suing your employer for negligence, you can sue third parties like contractors or property owners. With the help of a legal expert, you can hold negligent parties accountable and receive the compensation you deserve for your injuries.
Robotics 
The fast-growing field of robotics has the potential to completely transform worker safety in the construction industry. While some might be concerned about this technology putting people out of work, it can also virtually eliminate worker injuries. Imagine if each worker was encased in a suit of mechanized armor, allowing them to lift heavy objects while simultaneously protecting them against almost any hazard.
Sensors 
Wearable sensors could also make a significant difference in worker safety. With each worker wearing an advanced sensor array, they could be quickly notified about changes in the environment and nearby hazards. For example, sensors could quickly detect the presence of toxic chemicals in the air.
Artificial Intelligence 
When you combine sensors and other equipment into a universal "smart system" governed by artificial intelligence, the result would likely be a much safer workspace. Imagine a construction site that could instantly shut itself down as soon as hazards are detected. In many cases, an AI system could detect the potential for hazards before workers even become aware of the danger. This is definitely something that is being explored today by numerous institutions.
Upgraded PPE 
Otherwise known as Personal Protective Equipment, PPE has the potential for considerable upgrades to improve worker safety. In 2021, it was reported that the National Personal Protective Technology Laboratory was undergoing a $14-million expansion. This new funding would go towards the development of new PPE technologies and a new respirator certification program.
Enlist the Help of a Qualified Attorney Today 
While technology can certainly help improve worker safety in New York, there are many individuals who are still being injured on construction sites. If you are one of these workers, don't accept your injuries without exploring your legal options. Reach out to NYC personal injury lawyer Michael Gunzburg, P.C., and we can help you get the compensation you need for your injuries. You might be dealing with medical expenses and lost s wages, and workers' compensation might not be enough. Book your consultation today, and we can develop an effective action plan together.
Resource:
prnewswire.com/news-releases/hill-international-and-everguardai-partner-to-advance-artificial-intelligence-ai-in-improving-construction-jobsite-safety-301286262.html