Another Construction Zone Accident Leaves Worker In Critical Condition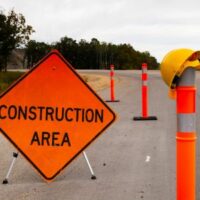 When most people hear about a construction accident, they might conjure up an image of a malfunctioning power tool, a worker being electrocuted, or someone falling down an elevator shaft. People often forget that a considerable number of construction accidents occur outside of the construction site on New York's roads. Drivers in the Empire State have a tendency to completely ignore signs outside of a construction zone, and this can lead to dire consequences.
Construction contractors and safety managers can do all they can to protect workers from reckless drivers, but in the end it's something that is out of their control. When drivers disregard signs and construction traffic workers, innocent people can get hurt. These can lead to serious and deadly injuries.
If you have been injured by a reckless driver on a New York construction site, you should get in touch with a qualified, experienced personal injury attorney. These legal experts can help you recover compensation for your missed wages, medical expenses, and much more. If a driver fails to slow down and move safely through a construction zone, you are fully within your rights to hold them accountable.
Three People Injured in Construction Zone Crash 
In April of 2021, it was reported that three people had been injured on the Northway. This northbound section was the site of an active work zone. Two vehicles hit a Department of Transportation truck, leaving one crew member in critical condition. A second worker was also transported to a nearby hospital, along with a third individual. The general feeling is that this accident occurred because a driver failed to slow down when approaching the active work zone. It seems as though this driver completely disregarded the signs that were clearly posted.
Operation Hardhat 
In response to the growing threat from reckless drivers in construction zones, New York State Police initiated "Operation Hardhat" in April of 2021. This resulted in much higher penalties for drivers who speed through traffic zones, including steeper fines. Last year's "Operation Hardhat" resulted in a 70% increased in fines related to construction zone infractions.
The Correct Protocol for Approaching a Construction Zone 
Slowing down isn't enough when you're approaching a construction zone. You also need to slow down before you enter the zone, and not as you enter it. It's also important to hang up your phone and focus entirely on the road. As you move through the construction zone, you should be scanning for potential hazards and workers. In some cases, workers can appear when you least expect it.
Enlist the Help of a Qualified Attorney Today
If you need the help of a qualified NYC personal injury attorney, contact Michael Gunzburg, P.C. Workers in New York shouldn't have to fear for their safety while trying to work on valuable infrastructure projects for the city.  While it's true that there's always an inherent level of risk with construction work, there's no reason why workers should face injuries from reckless drivers. Reach out today, and we can help you recover compensation and hold any negligent parties accountable.
Resource:
news10.com/news/saratoga-county/three-injured-in-northway-construction-zone-crash/