Someone Hit Me With An E-Scooter In New York. What Now?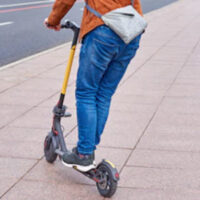 E-Scooters are becoming increasingly common across the world's biggest cities, and New York is no exception. These small but deceptively fast vehicles are proving to be quite popular among tourists and individuals who don't own cars. At first, most of these scooters were kick scooters. Now a days, these scooters are powered by single or dual electric engines that can drive some of these scooters as fast as 50 mph. Being hit by one is no joke. There are many tourists and careless people in New York, so the use of E-Scooters has skyrocketed in recent years. Local residents often complain about individuals racing around the sidewalks in a reckless manner. Accidents have become commonplace, and victims are asking themselves how to pursue justice.
If you have been injured by an E-Scooter in New York, you should reach out to a qualified, experienced personal injury attorney as soon as possible. These legal experts can help you pursue justice in an efficient manner, and you can receive compensation for your damages. No one should have to fear for their safety while walking on the streets of New York City, and you can hold negligent people accountable for their irresponsible actions.
E-Scooters Are a Serious Problem in New York 
In 2020, it was reported that medical experts had noticed a sharp increase in scooter-related ER visits in New York. These medical professionals specifically highlighted the widespread use of an electric scooter called the Revel. This vehicle is capable of a top speed of 43 miles per hour, and it is just one example of a "pay-per-use" motorized scooter that is becoming common in New York. Doctors stressed that both pedestrians and drivers of these scooters were becoming injured quite frequently. They also stated that individuals often failed to wear helmets and follow "common sense laws" while on the road. It goes without saying that scooters should never be operated on sidewalks.
Who Can I Sue if I Was Hit by a Scooter? 
If you were injured by a reckless scooter driver, your first instinct may be to hold the driver accountable. While it is true that these drivers are often partly responsible for the collision, you should also consider the fault of the scooter company. In many situations, scooter drivers are riding vehicles that are faulty or poorly maintained. In addition, scooter companies may be responsible for not sufficiently educating their customers on how to safely operate their scooters. With this in mind, you should consider filing a claim against both the driver and the scooter company.
Suing the scooter company is often difficult because these organizations make their customers sign liability waivers. That being said, these loopholes can be overcome by experienced and knowledgeable attorneys. A liability waiver can only go so far in court, and juries, depending on the facts, are often eager to hold these companies accountable. In addition, you might not be able to recover much compensation from the driver alone, since they might not have a lot of money or assets in their name.
Enlist the Help of a Qualified Attorney Today
 If you're serious about pursuing justice against negligent E-Scooter operators, you should reach out to an NYC personal injury attorney at your earliest convenience. Michael Gunzburg, P.C. has been representing injury victims in New York City since the 1980s, and he can help you get the compensation you deserve. Reach out today, and we can help you pursue justice.
Resource:
nypost.com/2020/07/10/electric-scooters-mopeds-causing-more-er-injuries-in-nyc/