Man Falls Over 50 Feet Into a Dumpster and Survives in Yet Another New York Construction Accident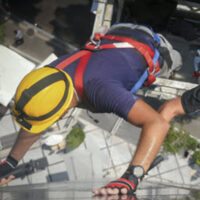 On December 14th of 2020, it was reported that a New York construction worker had miraculously survived after falling 5 stories in Ithaca. He had been working on the roof of a structure that was under construction. Fortunately, the 37-year-old man fell directly into a dumpster, which was presumably filled with bags of soft garbage. This incredibly fortunate circumstance softened and cushioned the man's fall, and he fortunately survived the incident.  Which was a miracle in itself.
The extent of his injuries wasn't revealed, but emergency responders pulled the man out of the dumpster and immediately treated him. He was given a cervical collar and an arm splint before being transported by ground to a nearby hospital. A helicopter wasn't available for rapid transport due to weather conditions. These same weather conditions may have contributed to the man's fall.
The Ithaca Police are Investigating 
As expected, the Ithaca Police department is launching an official investigation into this construction accident. They will likely review the construction site's safety protocols, including the safety equipment used and how the man was trained to operate at heights. This investigation will likely have an impact on the man's personal injury claim and any lawsuits that he may be filing against third-party contractors, property owners, or any other party that could be liable for his injuries.
What Caused the Fall? 
We know that the man was equipped with a safety harness and proper gear for working at heights before the incident. However, the man reportedly unclipped himself from his harness before he fell. According to various accounts, this was because the worker was getting ready to go home for the day, and he was in the process of leaving the construction site. We can only speculate as to what caused his fall, but weather conditions could have played a role. Perhaps he unclipped himself from his harness before a strong gust of wind came at that specific moment. Perhaps he fell as he was descending from his work site, just like he did every day when he left this job.
The Scaffold Law
You may assume that because this worker unclipped himself from his harness, he is "at fault" for his own injuries. Perhaps you believe (as many defense attorneys will try to argue) that he wasn't using his safety equipment properly.
Fortunately for all construction workers across the State of New York, the Scaffold Law means that property owners and contractors have "absolute liability" for any gravity-related injuries. This means that any worker who has suffered injuries in New York construction sites can hold the property owners and contractors strictly liable for gravity related accidents.
The fact that this man in Ithaca unclipped from his harness shouldn't prevent him from pursuing a personal injury claim and be awarding compensation for his injuries. If a defense attorney tries to blame the victim claiming he wasn't wearing his safety harness, a qualified, experienced personal injury lawyer would simply need to remind the judge of the New York State Scaffold Law .
Contact an Attorney for Help 
If you have been involved in a gravity-related fall, fell off a ladder, or been injured from a falling object at a construction site, reach out to a NYC construction accident lawyer at the office of Michael Gunzburg, P.C. today, and enlist the help of an experienced attorney.
Resources:
mytwintiers.com/news-cat/regional-news-news/ithaca-construction-worker-falls-five-stories-into-dumpster-and-survives/