Can You Sue Pharmacies In New York?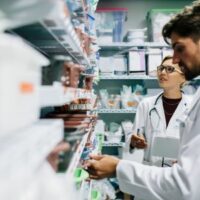 The pharmaceutical industry plays a major role in many of our lives. Countless New Yorkers rely on medication to get them through their day. In some cases, they may rely on this medication to help them avoid pain or crippling depression. In other situations, patients may rely on proper medication to keep themselves alive. There are almost limitless reasons why a person might be taking medication in the state of New York. With all that said, one thing is clear: When errors are made by those in charge of prescribing medication, people can be seriously injured or even killed.
So can you sue a pharmacy in New York? The question is a complicated one, since pharmacies and the pharmaceutical industry as a whole have long enjoyed considerable protection from lawsuits. However, that's not to say that legal action is impossible. In the end, your chances of achieving a favorable legal outcome depend heavily on your choice of attorney. Choose a qualified, experienced personal injury lawyer, and you can approach this situation in an efficient, confident and educated manner.
Duty of Care 
Pharmacists owe a duty of care to their patients. "Duty of care" is a legal term that refers to an individual's responsibility to ensure the safety of others. Some individuals have a clear duty of care, such as police officers, firefighters, and medical professionals. When someone accepts a job in professions like these, they accept the responsibility of ensuring the safety of others. Even average citizens owe each other a certain degree of care, but pharmacy personal injury attorney  will likely argue that pharmacists owe the public a higher degree of care than a normal person walking down the street.
Warnings 
Generally speaking, a pharmacist is not required to inform you of possible side effects and negative drug interactions. However, they are required to inform you of these facts if you clearly request the information. They are required to provided to you in writing such information along with your prescriptions. With that being said, there are some extenuating circumstances. For example, if a pharmacist is aware that a patient's medical condition could result in serious side effects when they take a drug, they may be liable if they fail to disclose this information.
Suing the Pharmacy 
You can theoretically sue a pharmacy for a number of reasons, including:
Improper prescriptions
Failing to administer medication
Improperly filled prescriptions
Prescribing the wrong medication or dosage 
Suing a Pharmaceutical Company 
It's also not uncommon for pharmaceutical companies themselves to be sued for various reasons. For example, a drug company might have manufactured defective medication that harms the public. Or perhaps they failed to properly warn the public of potential dangerous side effects. Pharmaceutical companies can be held liable under products liability laws in negligence, strict products liability and failure to warn claims.
Enlist the Help of a Qualified Attorney Today 
If you need help, contact skilled NYC personal injury lawyer Michael Gunzburg, P.C. We have dealt with a wide range of injury cases, including those involving medical malpractice. While it's true that pharmacies have typically enjoyed considerable protection from lawsuits, they cannot avoid liability when their negligence is clear and obvious. Reach out today, and we can develop an effective action plan together.
Resource:
buffalonews.com/news/local/lawsuits-seek-to-pin-blame-for-costs-of-opioid-epidemic-on-drugmakers-pharmacies/article_e8f4e462-af6b-11eb-be4d-8b2ec1022004.html