Worst Snowstorm in Five Years Hits New York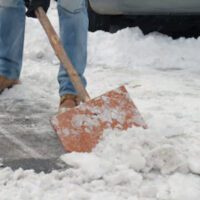 On January 31st of 2021, New York was hit with the worst blizzard the city had seen for over five years. Millions of New Yorkers braced themselves from a coming onslaught of snow, and Mayor de Blasio quickly declared a state of emergency. Three separate blizzards were predicted to hit the Big Apple after the initial storm, with a total of 24 inches expected. While New York is more than familiar with snow during the winter, extreme weather such as this presents unique concerns.
One of the most dangerous aspects of a snowstorm is the fact that sidewalks become slippery and unsafe to walk. Unfortunately, New Yorkers must still brave these conditions in order to get to work, buy groceries, and carry out other essential tasks. A slip and fall on an icy or snowy sidewalk can lead to serious injuries. The matter becomes even more unsettling when property owners or city officials don't do enough to clear away the snow and make conditions safe for the public. If this is the case, injured victims have the right to file a personal injury claim against the negligent party.
"An Intense Situation" 
After declaring a state of emergency on January 31st, Mayor de Blasio called the storm an "intense situation," warning New Yorkers that the storm was steadily growing in magnitude. Experts quickly predicted that the coming snowstorm would be on par with Winter Storm Jonas, which hit the city in January of 2016. That year, the city saw a record-high snowfall of 27 inches. The Mayor also recommended that residents stay home as much as possible, stressing that this was a "dangerous storm."
Will the City's Response Be Enough? 
City officials immediately began planning for a major snowfall. On Sunday, snow plows began dispersing layers of salt brine across streets and sidewalks in an effort to prevent icing. Unfortunately, questions have been raised over whether or not the city can handle a snowfall of this magnitude, especially after the impact of the Covid-19 pandemic. Because of budget cuts related to the pandemic, almost 400 snow removal jobs were removed completely. That's 400 fewer workers who are available to keep New York's streets free from snow and ice. 
Filing a Personal Injury Claim After a Slip and Fall 
Both property owners and city officials have a legal responsibility to keep New York's streets, sidewalks, and public walking areas safe for the public. If they fail to clear away snow in a timely manner, innocent people can become seriously injured. If you have been injured due to someone else's negligence, you can file a personal injury claim against them.
 Enlist the Help of a Qualified Attorney Today 
If you have suffered injuries as a result of snowy weather in New York, you might want to consult with a personal injury attorney. If you were injured due to a property owner's negligence, you have every right to hold them accountable. Property owners have a legal responsibility to keep sidewalks and public walking areas safe for innocent people. Reach out to NYC personal injury attorney Michael Gunzburg, P.C. today, and we'll help you pursue a fair and adequate settlement for your damages.
Resource:
nydailynews.com/new-york/ny-snowstorm-blizzard-preparation-closures-20210131-vng6rjhszbfm5knot6e5xan45y-story.html