Top Electrical Hazards At A New York Construction Site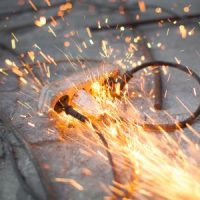 While there are many potential dangers at a typical New York construction site, workers need to be especially careful around electrical hazards. These hazards are often very difficult to spot, and in some cases, they are virtually invisible. The risk for injury or death is also extremely high, as electrocution can kill a worker in a blink of an eye. It makes sense to become aware of these potential dangers if you're working as a construction worker in New York.
Unfortunately, safety education comes far too late for many construction workers. These individuals can become seriously injured by unsafe construction sites, and in some cases, they can even be killed. . The surviving family members of these deceased workers must then take legal action against the negligent parties that  created these safety hazards. If workers are injured by electrical hazards, they can also file a personal injury lawsuit. In both situations, it is very important to work with a qualified, experienced personal injury attorney in New York.
Electrocution is One of the Most Common Causes of Death in the Industry 
According to a report published by the Center for Construction Research and Training, electrocutions are responsible for nearly 50% of all fatalities on construction sites across the nation. This highlights the need to take these hazards seriously, educate workers about the potential risks, and prevent individuals from working in dangerous situations.
Common Electrical Hazards 
Here are some of the most common electrical hazards you might find at a typical New York job site:
Powerlines 
One of the most significant electrical hazards comes from power lines. In many construction sites, power lines are a constant threat as they hang overhead. If a piece of machinery accidentally touches these overhead power lines, it can have disastrous effects. Workers and safety professionals are encouraged to identify all power lines before work begins, and stay 10 feet away at all times.
2. Damaged Equipment 
Construction sites can put tremendous stress on even the most robust tools and equipment. When this equipment becomes damaged, there is an increased risk of electrocution and other electrical concerns. For example, a power tool can easily become a serious risk to worker safety when its cord is damaged. Wires can become exposed, and suddenly the tool has the ability to injure or kill others, especially when exposed to wet conditions. 
3. Overloaded Circuits 
The problem with working on a construction site is that everything is always a "work in progress." This includes the unfinished electrical circuits on the building being constructed. Some of the most notable concerns include inadequate wiring and improper grounding. Overloaded circuits are also common, and this usually occurs when temporary extension wiring is extended too far.
Enlist the Help of a Qualified Attorney Today 
For help with your case, contact NYC construction accident attorney Michael Gunzburg, P.C. We have considerable experience with a wide range of construction injuries, including those caused by electrical hazards. We are also passionate about helping the victims of these injuries, and we will do everything we can to get you the compensation you deserve. Reach out today, and we can work together to pursue justice and make New York's construction sites safer for everyone.
Resource:
cpwr.com/sites/default/files/publications/CB%20page%2045.pdf