Pedestrians Deserve More Protection In New York City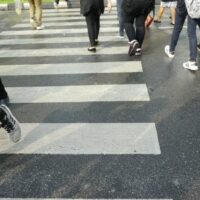 We all know that traffic can get a little insane in New York City. If you're in a car, you at least have some degree of protection as you navigate these busy streets. But what if you're simply trying to cross the road as a pedestrian? Unfortunately, innocent pedestrians are struck by cars on a regular basis in New York, and these incidents can lead to serious injuries and deaths. Even if pedestrians are following all the rules and walking across designated crosswalks, they still run the risk of being hit. What is being done to address this issue?
If you have been hit by a car while crossing a crosswalk in New York City, you need to get in touch with a qualified attorney as soon as possible. Ideally, you should team up with a lawyer who specializes in pedestrian injuries. An attorney can help you seek compensation for your injuries and your missed wages. In addition, you can file a wrongful death claim if you have lost a loved one due to one of these incidents. This can help you hold negligent parties accountable and receive the financial support you need to continue with your life.
The Vision Zero Program 
New York City is addressing this issue with a number of initiatives, including the Vision Zero Program. This program aims to prevent further pedestrian injuries with engineering, enforcement, and education strategies. The program operates under the belief that we should strive for zero pedestrian injuries in the future, hence the name "Vision Zero."
According to the Vision Zero Program, 3,000 New Yorkers are seriously injured each year after being struck by vehicles. A further 200 individuals lose their lives each year due to these accidents. Tragically, children under the age of 14 are more likely to lose their lives after being struck by a vehicle compared to any other hazard. These incidents are also the second-highest cause of death for senior citizens.
The Vision Zero Program also stresses that the City is working hard to protect these citizens, and yet it doesn't seem to be enough. Past strategies have involved new laws that punish drivers that fail to yield to pedestrians, new street designs, public outreach programs, and much more. While these initiatives have resulted in fewer traffic fatalities over the years, the fact remains that thousands of people lose their lives each year in New York due to being struck by vehicles. We can all agree that this is unacceptable.
Enlist the Help of a Qualified Attorney Today 
If you were a pedestrian struck by a vehicle, contact NYC pedestrian accident lawyer Michael Gunzburg, P.C. We have considerable experience with pedestrian injuries, and we can help you receive the compensation you need to cover medical expenses, missed wages, and much more. We also have experience with wrongful death claims resulting from pedestrian accidents. Reach out today, and we can hold negligent drivers accountable for their reckless actions.
Resource:
nyc.gov/content/visionzero/pages/