Construction Accident In Brooklyn Leaves Two Workers Trapped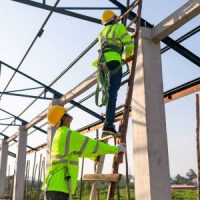 Although the Miami condo collapse has put a spotlight on Florida's safety standards, it's important to realize that similar accidents can happen in any state. Recently, two workers were trapped beneath rubble in Brooklyn after a construction site suffered a partial collapse. These kinds of incidents are not isolated. Instead, they are symptoms of a national issue that the construction industry can't seem to deal with. Not only do these safety hazards threaten the lives of innocent construction workers, but also the lives of residents who later dwell in the finished buildings.
If you have been injured due to a building collapse in New York City, you should get in touch with a qualified personal injury attorney as soon as possible. These legal professionals can help you hold negligent parties accountable. Whether your employer, a property owner, a contractor, or any other party was responsible for your injuries, you deserve to take legal action. With the help of a personal injury lawyer, you can recover a substantial settlement that covers your medical expenses, lost  wages, and other recoverable damages.
Workers "Pinned" Between Collapsed Brick Wall and Flood 
On July 30th, it was reported that two workers in Brooklyn had suffered injuries after a construction site had partially collapsed. The workers were attempting to demolish the building when the incident occurred. First, a brick wall fell down onto workers on the second floor. This brick wall was holding up a ceiling, which also fell after its support beams failed. When the brick wall fell, the roof caved in as well. This left the workers pinned between the caved-in roof, debris from the brick wall, and the floor.
Tragically, the workers could not be rescued immediately. In order to create a safe zone for the rescue efforts, the entire building had to be shored up before first responders could enter. This meant that it took over an hour before the first injured worker was pulled out of the rubble. The second injured worker was pulled out ten minutes later. As you might expect, they both suffered serious injuries due to this incident, and they had to be transported immediately to a nearby hospital. Thankfully, early reports confirmed that they achieved a stable condition.
Earlier Maintenance Failures 
The DOB immediately launched an investigation into the incident and quickly issued a full stop-work order. Later, it was revealed that this same building site had a history of violations within the past month. These violations mostly involved maintenance failures.
Enlist the Help of a Qualified Attorney Today 
For help from a skilled NYC personal injury attorney, contact Michael Gunzburg, P.C. We have been helping injury victims in the Empire State for many years, and we're passionate about holding negligent parties accountable for the devastation they might have caused. Incidents like the recent construction site collapse in Brooklyn happen far too often, and workers deserve to recover compensation for their injuries. Reach out and book your free consultation today.
Resource:
abc7ny.com/construction-site-collapse-workers-trapped-ceiling-residential-building/10919528/